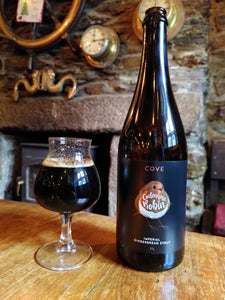 Codename Robin Gingerbread Imperial Stout 2023

Limited edition 750ml sharing bottle
As winter draws in here on the Cornish coast, a bold Robin has taken to sneaking into our brewers yard at every opportunity. We see it as a good omen, and thought we'd brew an extra special beer in honour of our new companion.
Rich molasses and gingerbread notes on the nose followed up by a smooth, roasty dark chocolate flavour, finishing with a lingering gingerbread finish to compliment the malt sweetness.
Eat With: A rich Christmas desert, preferably beside a roaring fire.
ALC 7% VOL

Hops: Goldings

Malt: Maris Otter, Oats, Chocolate, Brown, Double Roasted Crystal, Dark Wheat

Yeast: Nottingham
Ingredients (Allergens in bold) Water, Barley, Hops, Lactose (Milk) and Yeast - Tested Gluten Free